Get Started Now.
Free, no-risk consultation!
FAQ: What You Need to Know
I was in an accident - what should I do?
The first thing you always want to do is get medical attention. Also, make sure the police are called. It is important that there is a complete police report for several reasons. First, it is important that information is collected from all the parties and witnesses to the collision. Second, although the at-fault party may feel terrible and apologetic at the scene, people tend to want to change their mind once they fear repercussions from the insurance carrier; so it is nice to have them provide a statement to the police officer. If they later decide to change their story, it will appear less credible.
Make sure you seek medical treatment, even if you feel okay. Many times in motorcycle accidents, the adrenaline is pumping so hard that your body masks your true injury. Also, it is possible you have sustained a head injury without realizing it. So it is important to document that you were concerned enough about your injuries to seek medical attention.
Do's and Don'ts
One of the first things our firm does when we commence representation is conduct a thorough investigation of all the facts and circumstances of your collision. Accordingly, never throw anything related to your collision away, such as blood stained clothes, damaged helmet, cell phone, etc. Further, never give a recorded statement to an investigator or insurance agent without first speaking with a lawyer. Only speak about your collision to your family and doctors. Do not put anything on Facebook or other social media regarding your collision and injury, as insurance investigators will attempt to use this against you. Ask your friends and family to not put anything on Facebook or any other social media site as well. If you have already put something on a social media site, immediately remove it.
Start keeping a daily journal of how you are feeling and ways you are being impacted, such as difficulty sleeping, going to the bathroom, showering, etc. Date and sign each page of your journal. This can be used by your lawyer to assist in your case.
Kass & Moses: Do I need a lawyer?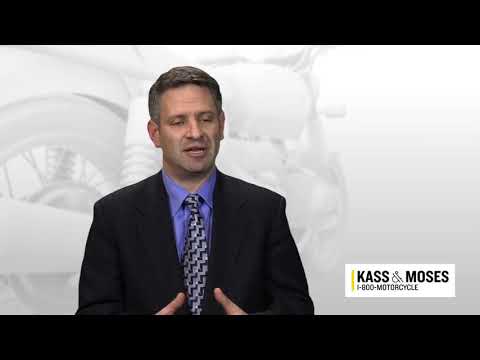 The simple answer is to hire an experienced motorcycle injury lawyer immediately. The investigation of what happened and more importantly proving what happened may be the most critical work your lawyer and team do for you. The best time to investigate is when the evidence is fresh, witness's memories are fresh, and physical evidence such as skid marks are still prevalent. In addition, there have been many cases where we have been able to obtain video of the collision that was captured on a security/traffic camera. However, this video is generally destroyed weeks and sometimes only days after the collision. Usually the sooner we are able to begin our investigation the better results we can obtain for you.
Our experienced lawyers will also quickly handle all the details of getting your bike repaired/replaced at no charge to you. It is important that you do not speak with the other insurance company, as they are truly your adversary and will likely attempt to assign some blame on you. It is best to leave the negotiations with a skilled lawyer that works for you and handles these cases every day. Finally, there are certain time limits in handling a motorcycle accident case, if your case is not filed prior to this time limit, you will not be entitled to any recovery.
How will I be able to pay your fees, if I can't afford it?
Kass & Moses: I can't afford a lawyer.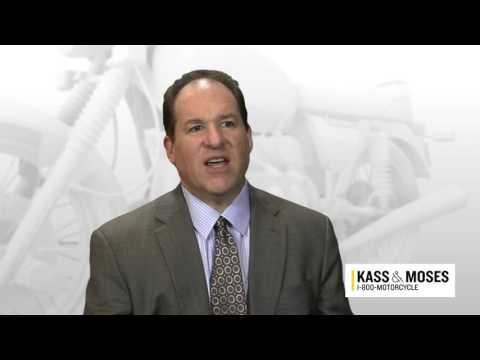 You will never have to come up with money out of pocket to pay us. Our fee is strictly limited to a percentage of what we recover for you. This is called a contingency contract. If for any reason we are not able to recover for you, regardless of how much time or money we spent on your case, you will owe us nothing. When we recover for you, our fee will usually be 1/3 of what we collect or 40% if we have to litigate.
Will I be able to talk with a lawyer if I call?
Kass & Moses: Will I be able to speak with a lawyer?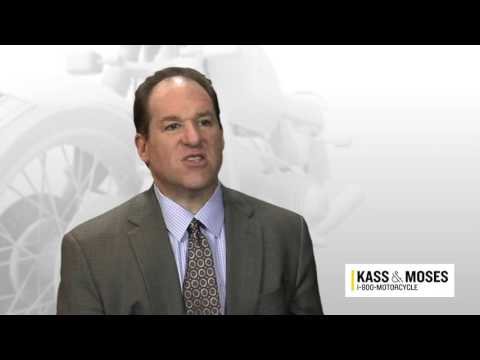 Yes. Our office prides itself in making sure all our clients and prospective clients can speak directly with their lawyer. When you call for a consultation, you will be directly connected to one of our partners who heads up our team of experienced motorcycle collision lawyers. This partner has unparalleled experience in knowing how to assess your case and how to best proceed. If a partner is not available you will be contacted within 1 hour during business hours or by the next morning if after business hours, including weekends and holidays.
Do I have a case if I didn't have a Motorcycle Insurance?
The general answer is Yes. However, it is important to speak to an experienced lawyer. If you were driving without a license, you may be given a citation. Driving without a license does NOT mean you were driving negligently. Accordingly, you normally still have a very valid case against the at fault driver.